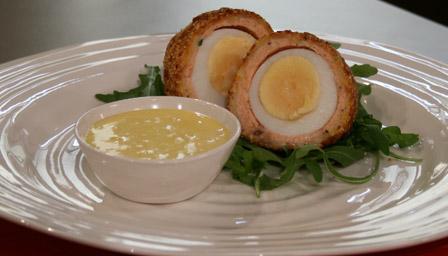 Looking for inspirational twist for the Egg Award 2013 after
Edinburgh Larder Bistro
had submitted their Black Pudding Scotch Egg recipe, I decided to think fishy. I considered Smoked Salmon with some lovely fresh local hens eggs, lemon mayonnaise and for an accompaniment some potted shrimps. Now the problem is, I live in St Helens where there's a dearth of decent fresh fish suppliers and potted shrimp are like hen's teeth!
Fortunately the night before, whilst watching North West Tonight on BBC 1, I caught a feature which included an interview with
Baxters Potted Shrimps of Morcambe
. They'
ve been producing Morecambe Bay Potted Shrimps since 1799 and are the oldest and most traditional such company in the country.
Baxters Potted Shrimps
have achieved the highest accolade with the granting of the Royal Warrant in 1967 which they retain to this day based on a totally unique recipe which has been handed down through their family for seven generations.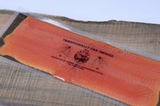 The advantage of
Baxters
is the have an online store for not only their delicious Potted Shrimp, but also Fresh Smoked Salmon, Smoked Salmon Pate, Dressed Crab and Scallops. They also feature a range of cheese from the
Leagram Organic Creamery
in Lancashire and
Patchwork Traditional Food
including Kiln Roasted Salmon Pate and Smoked Mackerel Mousse.
Their mail order service covers the UK and all orders are despatched within 24 hours of production.
Packed in an insulated box, this overnight service means the cartons will keep for at least a week in a domestic fridge, or can be frozen and kept for six months!
They've featured on the telly when
Marco Pierre White
toured the country in the quest to find the very best of British food and, having been a fan of
Baxters Potted Shrimps
for some time, he took the opportunity to visit Bob Baxter in Morecambe.
Bob took Marco on a tour of the factory and introduced him to the girls, Kathleen, Anne and Olwyn, who have been preparing the shrimps for over 30 years. Marco christened them 'Baxters Angels'.
Their recipe is so secret not even Marco was allowed to see it!
They also featured on the show by those lovely hirsute lads from the North east, The Hairy Bikers last year.....



So keep your eyes peeled for a Smoked Salmon Scotch Egg with Lemon Mayonnaise and Baxters Potted Shrimps recipe. Me...I'm heading for the laptop to order some shrimp and waiting for my delivery.