This entry for The Egg Award 2013 is called The Honest Irish Egg by 'Ave Maria' -
@readytocrumble
on Twitter.
We'll let Maria tell you the story of her eggs.
My dish is called The Honest Irish Egg and the reason for this, is because I sourced my eggs from the brilliant
Castlefarm Shop
in Athy, County Kildare. They operate an honesty box for their eggs and other produce every day of the week and this is how I obtained my eggs!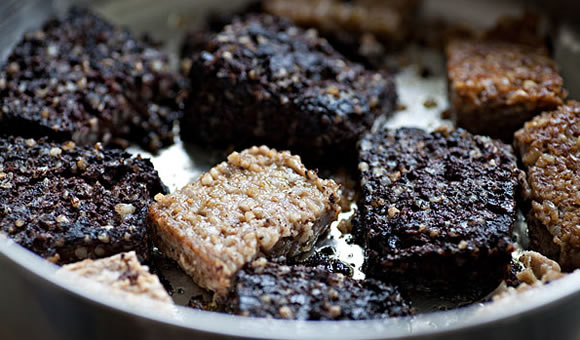 As Mr Ave is coeliac, this recipe is also gluten-free. I used some beautiful gluten free Black Pudding from
Inch House
in Thurles, County Tipperary. You can find them on Twitter here @inchouse.
My Honest Irish Egg recipe is a variation of an egg en cocotte - simple, tasty and above all, showcasing the wonder of the egg itself!
Pots & Pans required

A lightly buttered ramekin

A small deep-sided baking tray
Ingredients
1 glorious organic egg, approx 50g of good quality black pudding, a dollop of double cream, snipped fresh chives to garnish.

Gently fry the black pudding until soft, being careful not to overcook.

When cooked, transfer to the base of the ramekin and use fingers to lightly flatten it down.

Carefully break the egg on to black pudding. Try not to break the yolk but it really doesn't matter if you do!

Spoon a dollop of double cream around and over the top of the egg.

Sprinkle the snipped chives over the top.
Put the ramekin into the baking tray and add boiling water into the tray - just below half the height of the ramekin is fine.

Very carefully (no scalds wanted!) transfer the baking tray into the centre of the pre-heated oven.

Bake for about 10-15 mins, or until the egg is lightly set. It's lovely when gooey, not so much when dried and rubbery!

Very carefully again, remove hot tray from oven. Remembering the ramekin will be hot, carefully lift it out and serve/eat immediately!
I like it best as shown, with melba toast and crispy bacon!