This dish for
The Egg Award 2013
was entered by food blogger and artisan jewellery designer
Vivienne Aldred
.
Vivienne writes the
Favourite Recipes From Pine Flat Place
food blog plus designs and makes a
n extensive range of hand made jewellery, consisting of semi-precious stones, glass and crystal. Her company
Sprungli Bespoke Jewellery
sells to retail outlets, Museums, Galleries, and also attends Trade Shows, Selling Fairs and Show Events throughout the year.
Details for entering a dish in The Egg Award 2013 can be found by clicking on this link
WILD GARLIC TWICE BAKED CHEESE SOUFFLÉS
INGREDIENTS


Serves 8-12


50g Wild Garlic Leaves washed well and finely shredded (Vivienne picks hers fresh from the nearby woods)
70g butter


75g freshly grated Gruyére cheese


75g freshly grated Parmesan cheese


400ml whole milk


50g plain flour


4 large Free Range eggs separated (Vivienne's eggs are from her neighbours hens)


Just less than 400 ml seasoned double cream. Salt, pepper and freshly grated nutmeg to taste.



Pre-heat oven to 200° C, 400° F Gas 6




1. Butter 8 large or 12 small ramekins well with butter from allowance.


2. Put the wild garlic in a pan with the milk, bring to the boil and set aside'


3. mix the remaining butter with the flour incorporating it well, then add the milk and wild garlic and cook until thick and smooth, stirring constantly. Cool for a short while.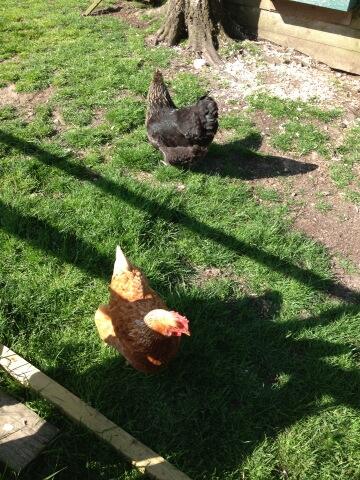 4. Beat in the salt, pepper, nutmeg, Gruyére and then the egg yolks.


5. Whisk the egg whites in a
very
clean bowl until they form stiff peaks and then fold into the cheese mixture.
6. Spoon into the ramekins and arrange in a deep baking tin with boiling water halfway up the side of the dishes.


7. Cook in the pre-heated oven for 15 to 20 minutes, allow to cool for 15 minutes and then turn out of the ramekins. (The soufflés can be frozen at this point until needed)
8. Arrange in a shallow oven-proof dish buttered and sprinkled with half the grated Parmesan cheese.


9. Pour the seasoned cream over the soufflés, sprinkle with the remaining Parmesan and bake again for 15 to 20 minutes until well risen. Serve at once.